L'enclume's inspired Tasting Menu is a right foodie feast
Simon Rogan's two Michelin star flagship eaterie L'enclume is worthy of any praise heaped on it and any more stars that may come its' way.
I have a hit list, doesn't everyone, not one where I have people marked for a grizzzly demise. One that lists all the places I wish to dine. L'enclume has been near the top of that list for some time now, but for some reason or another I just didn't find the time until recently when a friend had told me that they had been wanting to go there for years and then mentioned an impending birthday.
I did not need any more encouragement! My left arm twisted around the back of my neck was unnecessary in my opinion! I quickly retrieved the number, with my spare arm and made the arrangements and a few weeks later we entered into the dining mecca that is L'enclume – two Michelin stars, five rosettes and number 2 in the Top 50 restaurants in the Good Food Guide.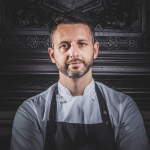 Now I know all about the development kitchen, the gastro toys and all the vegetable shenanigans that Simon Rogan conjures up behind closed doors but I have been constantly impressed and mystified (in a good way) at just how much people are saying and I have not read a bad review, which is fully justified. Located in Cartmel, a picturesque, chocolaty box type of village with a babbling brook, ancient church and old fashioned pubs and the L'enclume farm just up the road which provides the restaurant with many of its ingredients which means total traceability and total control from fork to fork.
The menu choice was made easy for us as we were shown to our seats in the orangery section, a glass of Nyetimber English fizz was presented and we were informed by the impeccable waiting staff that the tasting menu would follow very shortly.
The level of service and knowledge shown by the staff is second to none, we were educated on every course in a mild and friendly manner which added to the whole experience, the sommelier, Neil Alexander was helpful and listened to our taste buds, resulting in an array of fabulous wines that complemented a complex menu.
Mark Birchall, head chef was on duty that day and treated us to a sublime tasting menu, every dish looked superb, well presented, expertly cooked and the taste intensity is something that will be hard to beat anywhere else. You will be well catered for if you have a sweet tooth, as a better dessert I have not tasted and you get four of them!
"The level of service and knowledge shown by the staff is second to none, we were educated on every course in a mild friendly manner which added to the whole experience."
The menu was an exciting read and we could only guess as to what was next, but that is part of the culinary adventure created by the team at L'enclume, it's like an encyclopedia of ingredients, crafted into small, beautifully presented dishes. Each with it's own page, bombarding your palate and senses with intense flavours and textures, the taster menu is akin to the entire Britannica collection in one afternoon.
It is a long afternoon, but it is an occasion to be taken slowly and enjoyed. The setting is beautiful and the food stunning, couple that with a relaxed atmosphere and uber friendly staff and you have a star mix.
www.lenclume.co.uk
Cartmel, LA11 6PZ
Tel. 015395 36362