Star quality comes to Manchester
Aiden Byrne's new super chic Manchester eatery offers us something new and exciting in the north west's unofficial capital. Jason Daniel takes a peek inside Manchester House and talks to the Great British Menu winner about his latest venture.
Manchester has everything a big city needs, two first class football teams, a buzzing social scene and hip and happening music just flowing through its veins. But it hasn't even had a sniff of a Michelin star since 1974, when Mud were Lonely this Christmas, Carl Douglas was Kung Fu Fighting and Abba were winning a Eurovision with Waterloo!
Aiden Byrne is out to change that with his über cool Manchester House Restaurant and Bar. First glances of the top floor lounge bar and the scene looks perfectly set for Manchester's urban posse with its' cool leather and wood interior, private glass booths and stunning panoramic, 360 degree views across the city. We went for lunch but I was tempted to stay until daylight disappeared just to see the city lights and Manchester come to life on a Friday night. After taking in the top floor surroundings with an aperitif called Ticketybrew pale ale, a Champagne cocktail and canapes of tuille, crab and a foie gras and beetroot macaroon it was back down to the second floor restaurant, where you are greeted by an open theatre style kitchen occupying the centre of the dining room as smart waiting staff buzz around the impeccably stylish room, attending to your every need.
The atmosphere certainly has a good buzz which makes you feel very relaxed. The understated style and quality of furnishing mark Manchester House out as a high end, Michelin contender but also keeps the associated formality of fine dining at bay, leaving you to relax and enjoy the vibrant setting that Aiden and Living Ventures have created. Along one side of the restaurant there is a large outdoor faux grass lined roof terrace with contemporary lighting and large seating areas that you can escape to between courses for a breath of fresh air, or just finish your drinks on a nice day.
At the table we were introduced to Ashley, our waiter for the afternoon who presented us with the menu and was knowledgeable enough to answer any question we asked with an enthusiasm that is rare in waiting staff. After making our choices and being careful not to order the same things we were entertained with a little amuse-bouche of a tiny onion brioche bun served with an onion consommé and a sweet onion butter, a lovely light, sweet treat for the palate.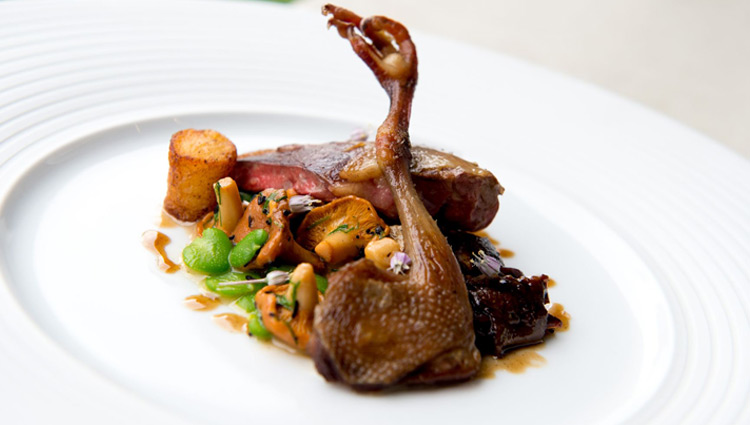 A pre-starter of braised snails, potato and parsley left us in no doubt of Aiden's Michelin aspirations. Bold, meaty snails that blended well with the rich creamy puree. The starters or I should say, beginning of frogs legs Kiev and squab pigeon with cherries, pistachio and violet mustard followed with impeccable timing between courses. This was my favourite dish of the day, not just because it resembled an elegant work of art, but the squab breast and confit of leg was cooked to perfection which was multi-textured delight that was complemented well with the flavours of pistachios, violet and cherry dust.
Look out for a surprise when you pop your cherry as you will bite into a creamy ball of foie gras encased in a cherry jelly, a nice touch and great combination. The frogs legs Kiev were a fab mix of plump meat and garlic, a clever twist on the more standard chicken version.
Suitably impressed we were onto the mains of Fire-roasted lamb rack, pine stock and sheep's cheese and Belted Galloway Rib-eye with chips ordered on the side. The mains came to the table in theatrical style with my lamb still being smoked under a dome cover before having a burning slice of pine whipped away by the table staff. A good cut of lamb infused with smokey pine, served with a pine stock broth that contained, fresh gnocchi, faggots, lambs tongue and sheep's cheese.
"Look out for a surprise when you pop your cherry as you will bite into a creamy ball of foie gras encased in a cherry jelly, a nice touch and great combination."
This dish took me back to my childhood in Wales where each element of this dish is commonly used as part of a staple diet. Elegant and really satisfying all in one bowl. Katie went for the man-sized main of Belted Galloway Rib-eye and Aiden's homemade chips, again the meat was cooked on a Big Green Egg to perfection with the fat rendered well, which created a tender steak with good flavours throughout, just how a steak should be.
Accompanied by a bone marrow and blue cheese custard, presented inside a marrow bone of course which was divine and very rich. In comparison to the starters flamboyant showy style, the mains offered a simpler view and a chance to taste Aiden's obvious culinary skill with flavours, allowing the quality of ingredients in both dishes to shine through. Milk and honey made up of a parfait and foamed milk, sprinkled with honeycomb and Aiden's take on Manchester tart with layers of jelly, pastry, cream and raspberries to finish, followed by what can only be described as a very nice coffee, served with multi-coloured array of macaroons presented in their own little wooden box with an engraved thank you plaque.
In summary I think Aiden, along with Living Ventures have created a real dining venue for the city with a unique and very friendly dining experience. They have created an engaging environment that blends classic and contemporary architecture with an ambience that reflects in the food. I wish Aiden the very best of luck with Manchester House and I am sure it will be a resounding success when the Michelin man comes to visit.
http://www.manchesterhouse.uk.com
Manchester, M3 3BZ
Tel. 0161 835 2557