Little Italy in little Otley
There really is nothing quite like authentic Italian food, served in a real Italian restaurant – I discover the best of Buon Apps
Could Otley be just like Italy? If Buon Apps is anything to go by then Little Italy and Little Otley are singing from the same opera sheet. Situated just outside the main part of the town in an old converted mill, is one of the most authentic Italian restaurant that West Yorkshire has to offer!
Accompanied by Anne Waddington and my darling daughter Matilda, we were met by the charming owner, Alex who runs the restaurant with his partner Eleanor. An aperitif, a quick chat and then upstairs into the impressive dining room that feels like it was once the home to a large mechanical thingamajig!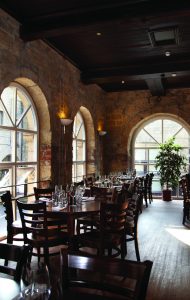 The room is alive with a pleasant, warm and chatty atmosphere – soft lighting completes the sophisticated, contemporary look totally in keeping with the exposed traditional stone walls. There is classic but comfortable furniture with traditionally laid tables. A mixture of clientele, a considered approach to both interior décor and food presentation make for a relaxed evening of dining.
The menu at Buon Apps is extensive, with something for everyone, even a fussy eater like my daughter. I spontaneously decided to go with the theme of the evening and indulged in the 'Regional Night' menu, the region that night being Molise, a small region in southern Italy.
A shared platter to start with good old antipasti, king prawns in a mildly spicy tomato sauce, made from plum tomatoes picked during August, which are at their best for sauces, a mixture of olives and goat's cheese filo tart to finish the ensemble.
A main called Abbruzzese which consisted of beef, vegetables and egg all smothered in a warm tomato sauce, it was like an Italian Sunday lunch covered in tomato gravy but absolutely delicious. Anne opted for a classic risotto which she described as "bellissimo" and we were straight into a game of 'who knows the most Italian phrases?' Luckily I have a few of those up my sleeve, bella! Matilda opted for a Margherita pizza – this is a 10 year old who has decided on a life of vegetarianism, but does not like any vegetables! I sense that she is failing to grasp the vegetarian thing, as do I, quite frankly.
Dessert was divine, in the form of a chocolate and almond tart topped off with ice-cream for the ladies, which apparently scores 11 out of 10 in the eyes of a small vegetarian!
In testament to the charm and friendliness of Buon Apps, three and a half hours had passed before we entertained moving from our cosy corner table. An easy place to want to come back to and enjoy authentic, rustic Italian cuisine. It certainly gets my vote – oh and the vegetarian's too!
Wednesday Regional Night Menu £15.00 for three courses
Buon Apps, Wharfebank Business Centre, Ilkley Road, Otley, West Yorkshire LS21 3JP
Tel. 01943 468458