"I will say this only once…"
A recent trip to Paris produced one of the year's best meals in the hearty, little bistro of Le Fountaine de Mars. I spent a few days in the 'culinary capital' of Europe trying to avoid a cardiac arrest!
This should be about good old fashioned French bistro dining I exclaimed whilst planning an autumn tryst to Paris, none of that fancy stuff, just traditional, hearty fayre. And that very evening, whilst flicking through the 200,000,00 channels that sky now offers, I happened upon the ever so cute Rachel Khoo, who just happened to be in one of Paris' famous bistros, La Fountaine de Mars. Famous for their cassoulet, that is. Having just tried my hand at this very dish a few weeks before, it only took a cursory glance at the interwb, a smile, a nod and it was straight on the list.
Avoiding the central district I opted for the Saint Germain quarter and decided not to book anything, just to go with the flow, go with the eyes and the heart, apart of course from the mouth-watering cassoulet which that had so excited me a few weeks earlier in my living room on a cold, damp Yorkshire evening.
Within minutes of arriving a table was booked, courtesy of a slight bit of table shuffling thanks to Laurent, the very charming front of house.
On arrival I were greeted in exuberant French style by Laurent, who I have to say is one the best restaurant managers I have ever come across; friendly, knowledgable and with a certain 'je ne sais quoi'. Pierre the wine waiter was a lovely chap, all smiles and attentiveness.
As I said, I had made the choice especially to get involved with a bit of cassoulet, until that is, the specials board was brought to the table. Oh my lord, the cassoulet was forgotten in an instant – merely a distant French fancy!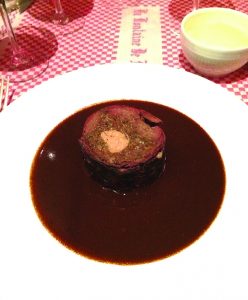 I opted for the white rabbit, stuffed with foie gras, prune, porcini mushrooms and truffle in a sauce of chocolate, blood and Armagnac. It has to be one of the stand-out taste sensations of my entire year. It was rich with superb texture and solid, expected French flavours, in other words ­– it was absolutely divine! I wouldn't want to eat two as it was quite an intense dish that at first glance looks like a petit portion, but the last forkful is a welcome sight.
My companion stuck with the cassoulet, which of course I got to taste, maybe next time I will have that, but who knows. Confit of duck, beans and sausage, as far as I am concerned that is winter heaven for me and I wasn't disappointed with what I could pry off my companion's confit! Delish is the word.
Our dinner was accompanied by a smooth Crozes-Hermitage, 2011 from Domaine des Lises that complemented perfectly. As the wine flowed and evening became night, the restaurant filled up and became the buzzing, Parisian bistro that I had hoped for, people of all walks of life just enjoying food, no pomp and no stuffiness whatsoever.
What I like about Le Fountaine de Mars is their ambition to play around with classic French dishes, chef Pierre Saugrain, simplifying and adding his own Saint Dominque slant on things. The île flottante was monumental, it looked more like a floating hut than small islands. Topped with crushed honeycomb, with a creme caramel flavour to the meringue, absolutely top drawer.
I decided on the classic crème brûlée and wasn't disappointed, perfect custard with a top just the right thickness with a satisfying crunch when I plunged the spoon into the dish.
A few digestifs, a coffee and we were done. My abiding memory of La Fountaine de Mars will be the way in which you get to experience French eating culture and to feel part of that is quite special. I have always loved the French attitude to lunch and eating – lunch will take as long as it takes and be as comfortable as possible, no need for ties and jackets, I suspect a tarzan outfit might be a step too far but you get the gist!
I wish I had more space to write more brilliant things about this place, but I will say that it's one of those restaurants that captures the very essence of dining out, it's an experience, something to be celebrated and enjoyed – that's part of the reason the place is packed to the rafters every night. If you're ever wandering down the rue Saint-Dominique in Paris then it's worth popping your head through the curtained doorway and asking the charming man for a table. Vive la cassoulet!
http://www.fontainedemars.com
Tel. +33(0)1 47 05 46 44